Peanut Festivals
National and regional peanut festivals celebrate the importance of goobers to community, commerce, and culture.


---
USA

Alabama
Dothan, AL
- The 70th National Pea-nut Festival was November 1st through November 10th, 2013.
Wooden nickels were used to promote the first National P-Nut Festival in 1938. Secretary of Dothan Chamber of Commerce, Harry Hall, said "Money may not grow on trees but our wooden nickels backed by the peanut harvest is evidence that truth is stranger than fiction for everywhere around Dothan you can spend this unusual money".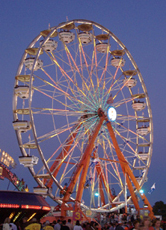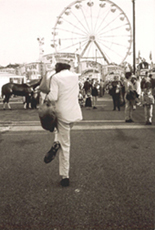 George Washington Carver spoke at the first National Festival in Dothan, Alabama on November 11, 1938.
The National Peanut Festival in Dothan continues to be a huge seasonal event in the tri-state region of Alabama, Florida, and Georgia, attracting about 200,000 people yearly.
More than 50% of USA peanuts are grown within 100 miles of Dothan, proclaiming itself as the "The Peanut Capital of the World".
Peanuts in Dothan - Festival and Farming Videos
Vintage National Pea-nut Festival photos
Official National P-Nut Festival website
Luverne, AL
-
World's Largest Peanut Boilin'
was Saturday, August 31, 2013 alongside the Crenshaw County Chamber of Commerce third annual Peanut Boil Festival.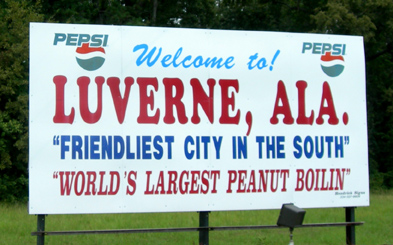 The Crenshaw County Shriners have hosted the annual Peanut Boil in Luverne for the past 40 years. Hundreds of volunteers boil and sell about 60,000 pounds of peanuts as a fundraiser for Shiner's Burn Centers. This is the largest peanut boil in the world according to the Guinness Book of World Records.
---
Florida
Jay, FL - The 24th annual Peanut festival at Gabbert Farm was October 5 and 6, 2013.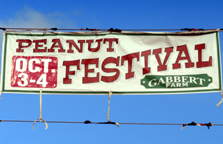 "The Jay festival has horse rides, antiques, farm museum, food, peanuts — green boiled, roasted, baked goods, restored antique farm equipment, sugar cane mill, pig chase, bubble gum contest, kiddie pedal tractor pull, wagon ride, hay ride, pony and train rides, live bluegrass, country, and gospel music."

Williston, FL - The 25th Annual Central Florida Harvest, and Peanut Festival was Saturday, October 5, 2013, in Williston's Linear Park.

The annual festival has arts and crafts, live music, children's rides, games, antique tractors and cars. There is always a variety of vendor foods at the festival, especially peanuts - roasted, boiled, fried, and baked. The Little Peanut King and Queen, and Baby Peanut contests are popular Central Florida Harvest, and Peanut festival events. This family oriented event draws more than 9,000 people annually.
---
Georgia
Blakely - Peanut Proud a Celebration, was March 23, 2013
2013's celebration included a parade, pageant, peanut recipe contest, 'cutest little goober' contest, arts and crafts, peanut obstacle course, food vendors, kids pedal powered tractor pull, 5k Run, fun run, antique farm equipment, entertainment by Diamond Rio, John Berry, Cole Taylor, The Claude Bell Project, The Fabulous Expressions, and Hwy 55.
Enjoy the sights and sounds from the 2012 event in Blakely in this video.


---
---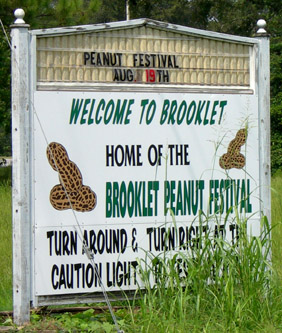 The 24th Brooklet p-nut festival was held August 17, 2013. Brooklet is located in Southeast Georgia, about 45 minutes from Savannah. Day long events include a peanut run, parade, arts and crafts, food vendors, free entertainment, and street dance.

Plains, GA
The 17th annual Plains Peanut Festival on September 28, 2013, kicked off with a 1 mile fun run, and 5k road race, followed by the downtown parade, arts and crafts vendors. Educational exhibits highlighted the importance of agriculture to the Sumter County community.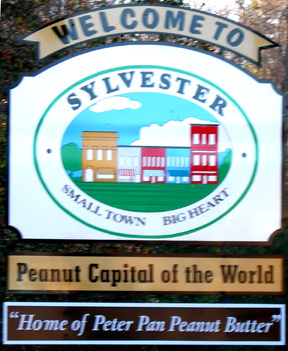 The 50th annual Georgia Peanut Festival was Saturday, October 19, 2013.
The event at T.C. Jeffords Park in downtown Sylvester included an arts and crafts show, food vendors, live entertainment, mechanical bull riding, peanut cooking contest, and downtown parade with bands, clowns, cars, local celebrities, politicians, beauty queens, and floats.
The Georgia Peanut Festival is the record holder for making the world's largest peanut butter sandwich, 12 feet wide by 12 feet long in 1987.
---
North Carolina
Fountain, NC

The 6th annual Fountain Peanut Festival was August 16th and 17th, 2013. Celebrating community and the end of summer, the eastern North Carolina festival attracts about 10,000 people per year. The festival features live music, arts and crafts, a variety of foods, entertainers, and amusement rides.
Dublin, NC

The 22nd annual Dublin Peanut Festival is September 20th, 2014.
Edenton, NC

Peanut Festival was October 5, 2013. Festival and parade occur during the day, Battle of the Bands will be taking place at John A. Holmes High School.
---
New Mexico
The 40th annual Peanut Valley Festival in Portales/Clovis will be held October 19 and 20, 2013. The festival took place at the Roosevelt County Fairgrounds in conjunction with the High Plains Quilt Festival. Many people don't think of New Mexico as peanut country but 80% of Valencia peanuts grown in the USA come from this region. This video covers Valencia peanut harvesting, processing, roasting, inspection by New Mexico Department of Agriculture, and products made with Valencia peanuts. Most of the region's Valencia peanuts are sent to the Sunland Peanut plant in Portales.
---
South Carolina
Pelion, SC - South Carolina Peanut Party
The 32nd annual South Carolina Peanut Party was August 8 to August 10, 2013 at the Pelion Community Club, 951 Pine Street. The Peanut Party grand opening began with the blessing of the pots by the local clergy. Events included a car show, dog show, librarybook sale, arts and crafts, peanut party parade, softball tournament, and a PB&J eating contest. Music was provided by the Mattie Phifer Band featuring Freddie Vanderford and Brandon Turner.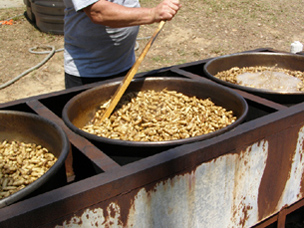 Boiled peanuts are South Carolina's official state snack food. This WLTX TV video shows how Mayor Charlie Haggard has boiled peanuts at the party for 29 years.
Charlie boils the green peanuts in plain water for about 2 1/2 hours, then soaks them in a salt water bath for 2 1/2 hours.
The South Carolina Peanut Party has been going Nuts over Boiled Peanuts for 29 years. The Peanut Party has the South Carolina Peanut Princess Pageant, live Gospel music, Parade, Carnival Rides and Boiled Peanuts.
Up to 130 bushels of peanuts are boiled in huge pots near the community center by the Pelion Ruritan club members and families. That's a lot of peanuts!
---
Texas
Floresville, TX The 69th annual Pea-nut Festival was October 8, 10, 11 and 12, 2013 in downtown Floresville, around the Courthouse Square.
Grapeland, TX 68th Annual Peanut Festival in Grapeland, Texas was October 10, 11, and 12, 2013.
Whitesboro. TX

The 48th annual festival was Saturday October 19, 2013, with a carnival, food, fun, crafts, 5 stages with entertainment, parade, and classic car show.
---
Virginia
Emporia, VA - Virginia Pea-nut Festival
Celebrating food, family, and heritage, the 51st annual Virginia P-nut Festival was September 27 to September 29, 2013. The 51st anniversary included a parade, pageant, car show, carnival, Evening in the Park with food vendors, arts and crafts vendors, and bands playing under the Pavilion.
The following day the parade traveled along Main Street with several high school bands, local favorites, and other fun entries.
The second video shows the peanut thresher pull competition during the 2009 Kingaroy groundnut festival.

The groundnut festival in Bangalore must the oldest annual peanut festival in the world, having started in the 16th century. "This annual peanut festival predates the founding of the city of Bengaluru."

Peanuts are always in demand at Subbamma's Basavangudi, Bangalore. This peanut stand was founded in 1947 by the grandmother of the present owner.
Search Boiled Peanut World here.