Boiled Peanut Trailer
by Bill
(Georgia)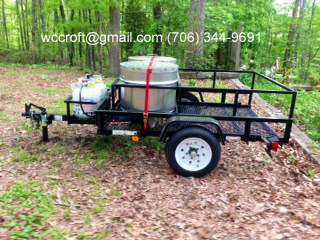 Boiled Peanut Trailer, with two 130,000 BTU propane burners
I manufacture, and sell fully equipped boiled peanut trailers. Our boiled peanut trailers have everything you need to start a very profitable business, full time or part time.


Our basic model boiled peanut trailer includes:
Two 27.5 gallon stainless steel pots with custom made heavy duty lids. Each pot cooks and serves 25 lb of peanuts.


Two 130,000 BTU wind shielded high pressure propane burners, featuring hard piped copper gas lines with separate brass valves. This allows each burner, and each propane tank to operate independently.


Two adjustable propane regulators, two full 20 lb propane tanks.


Trailer lift, stainless steel quart scoop.
The trailer is a 4' x 6' (10' including tongue), which is sized to fit into 10' event spaces, and still have room to work. It is D.O.T. approved with a 2000 pound capacity, and is titled. This basic model trailer is equipped with everything you need to start a very profitable business.
The setup can also be used for pork skins, hot dogs, corn or anything else that boils or deep fries. Only the best parts were used to fabricate this trailer. I can add anything you want, but the basic trailer is complete with everything you need to cook, and serve boiled peanuts.
Complete cooking instructions, recipe, supplies, and replacement parts information will be provided with each purchase. I'm always available after the sale for any further questions you may have. Boiled peanuts are a year round concession.
See our basic trailer, and contact information in the photos above. Custom trailers built to your specifications are also for sale.