The Peanut Vendor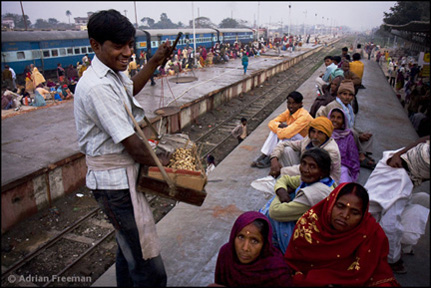 Peanut vendors are loved for their tasty snacks and colorful character. Do you have a favorite pea-nut vendor?
We buy roasted, boiled, or steamed peanuts from hawker centers, street carts, farmers markets, food stands and baskets across the globe in Africa, Algeria, Australia, Brazil, Korea, Peru, China, Cuba, Singapore, Guam, Indonesia, the Philippines, Vietnam, Mali, Nigeria, Taiwan, India, Thailand, West Indies, Jamaica, Ghana, Hong Kong, Malaysia, Japan, Thailand, United States, Mexico, Zimbabwe and other areas.
In India peanuts are sold near train stations and on top of trains to provide 'time pass' for passengers during long train rides.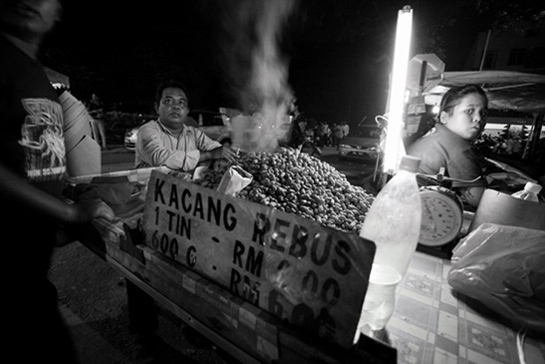 Steamed peanuts are a popular street food in Malaysia. Here is a Kacang Rebus vendor in Kuala Lumpur. In the USA peanut vendors sell groundnuts at fairs, festivals, expositions, circuses, baseball games, football games, and roadside stands.
The Peanut Vendor in Music
The song 'El Manisero' celebrates our pea-nut vendors. This historic song was first recorded by the Havana Casino Orchestra in 1930 on Victor Records in New York City, NY.
'El Manisero' was written by Moises Simons. Don Azpiazu led the Havana Casino Orchestra with lead vocal by Antonio Machin. This song is the first Cuban music recording released in the USA.
El Manisero (The Peanut Vendor) initiated US interest in rumba, and other Latin music. Havana Casino Orchestra 1930
In Honor of the Peanut Man
Byron Trawick - Dothan, Alabama (1929-2009)
"His formula for success was simple - peanuts, salt, water, kindness and conversation." Dothan Eagle, January 8, 2009.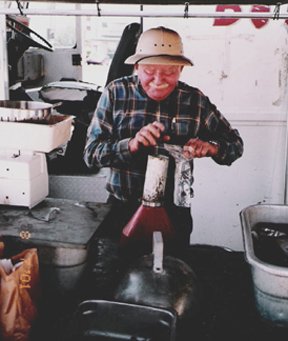 Byron Trawick wore his pith helmet and a smile as he boiled, bagged, and sold peanuts from 7 to 5 every week, for more than 25 years. Under blistering sun, or pouring rain, he was there.

Everyone called him the Peanut Man, though his nickname was Cotton.
Byron was a delight to talk with, telling stories from his life, or Dothan's history, and politics from his viewpoint.

He'd ladle up a sample of hot boiled peanuts from the large stainless steel pot when a new customer arrived. The fresh delicious samples encouraged newcomers to buy more boiled peanuts than planned.
Byron told me about his job at the Colonial bread factory in Dothan. He said he'd always loved fresh baked white bread, and the job allowed him to eat all he wanted. Initially this seemed like heaven, having unlimited fragrant, fresh white bread. Mr. Trawick decided after a few days on the job that he was no longer interested in eating white bread. He never grew tired of boiling peanuts and talking with customers.
Byron treated every visitor as a friend. Mr. Trawick was so loved by the community that a memorial was built in his honor at the location of his boiled peanut stand; the intersection of Dothan's Ross Clark Circle and West Main Street (Highway 84 West).
"Indeed, the very steam from Byron Trawick's massive kettles, and the ever-pleasant countenance of the man himself, lured thousands of motorists over the years to slow down, pull over and enjoy the peanuts." Dothan Eagle, 0ctober 29, 2009.

---
Tootie's Boiled Peanuts in Minneapolis, Minnesota
Tootie's Boiled Peanuts is the only place in the Twin Cities to get hot boiled peanuts. Entrepreneur Tootie Martin serves this delicacy at the Midtown Farmer's Market, the West Broadway Farmer's Market and other events like the Annual Jazz Festival.
Per Tootie's Boiled Peanuts facebook page, they will deliver boiled peanuts when the farmers market season ends.

Boiled Peanut Vendor in Jakarta, Indonesia
This Indonesian vendor shows how his tricycle cart steams peanuts. He must pre-boil the peanuts and steams them in the cart to keep them hot. A paper cone filled with kacang rebus costs between Rp.2.000 and Rp. 10.000 ($0.22 - $1.09 USD). The first 2 peanuts opened show 3 pods with purple seed skins, and the 3rd one has 2 pods with white seed skins.
---
Do you have a favorite Peanut Vendor?
Are You a Peanut Vendor?
Have a Suggestion for Peanut Vendors?
Help everyone find tasty peanuts. Tell us where you buy, or sell peanuts, send photos if you can. Post your suggestions, and advice for peanut vendors here.
Comments
See what other people wrote about peanut vending.

---

Search this site.
Custom Search
More Boiled Peanut Vendor Photos
Mickey, Gretchen and Mildred sent us photos of boiled peanut stands along Highway 231 from the Alabama, and Florida border through Dothan to Troy, Al.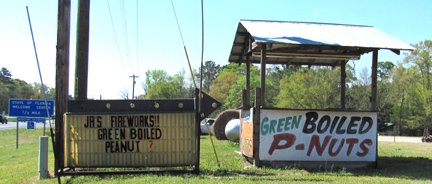 Jr's Fireworks and Boiled Peanuts at the Alabama Florida border, hwy 231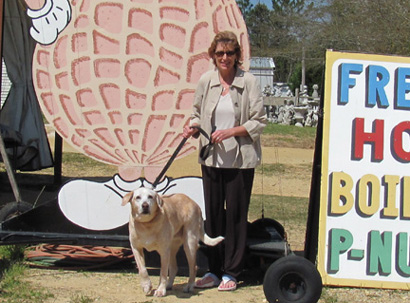 Mildred, and Gretchen at boiled peanut stand on highway 231.


Giant stainless steel pot with burner for boiling green peanuts


Green boiled peanut stand on hwy 231 from Dothan to Troy, Al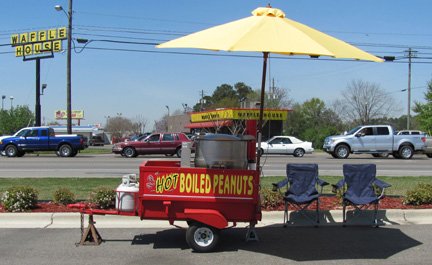 Hot boiled peanuts trailer on hwy 231 from Dothan to Troy, Al.


Hot boiled peanuts served fresh on hwy 231 from Dothan to Troy, Al.


Gretchen, and hot boiled peanuts, vine ripe tomatoes, butter beans, and peas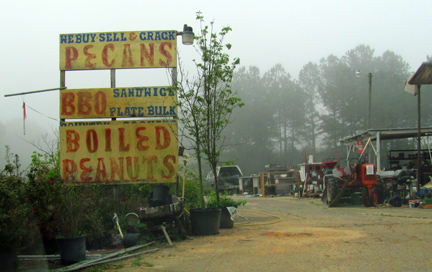 Boiled peanuts, BBQ sandwiches, pecans on hwy 231 near Troy, Al.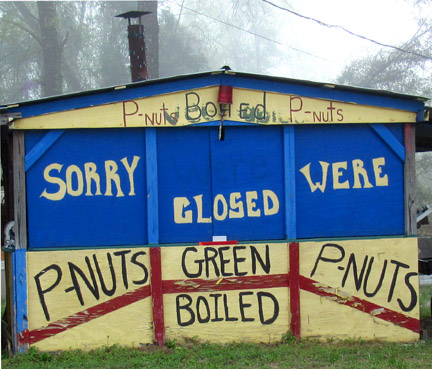 Hwy 231 near Troy Alabama - Boiled peanut stand - "Sorry Were Closed"
---

return home from Peanut Vendor