Cajun Boiled Peanuts Recipe
This Cajun boiled peanuts recipe begins with the three traditional boiled peanuts ingredients.
Raw Peanuts in shell - Fill a large stockpot leaving room at the top.
Water - Float the peanuts completely with water. Measure the amount of water used to fill the pot.
Salt - 1/2 cup of table salt per gallon of water used. This is 1 tablespoon of salt per pint of water.
---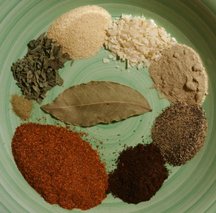 Cajun Boiled Peanuts Spices (per gallon water)
cayenne pepper - 1 tablespoon
black pepper - 1 teaspoon
white pepper - 1 teaspoon
onion powder - 1 teaspoon
garlic powder - 1 teaspoon
chili powder - 1 teaspoon
thyme - 1/2 teaspoon
sweet basil - 1/2 teaspoon
bay leaf - 1 large leaf
Zatarain's 'crawfish, shrimp and crab boil in bag' - 3 oz. bag
Adjust ingredients per availability, and your taste. To increase or diversify the spicy heat, add any of the following: red pepper flakes; dried, roasted or fresh hot peppers; pickled jalapenos, and their juice; liquid hot sauce. It's up to your preferences, and what you have available.
Tell us your favorite ingredients
.
---
If you use a prepackaged spice mix in your Cajun boiled peanuts recipe, be sure to read the ingredients of the mix. Many of these all-in-one Cajun spice blends contain a large percentage of salt, therefore you should reduce the amount of pure salt in this Cajun boiled peanuts recipe.
---
Cajun Boiled Peanuts Recipe
Directions
Rinse the raw peanuts several times in cool water to remove debris.
Put the peanuts in a large stockpot leaving at least 2" room at the top.
Add water, measure as you fill the pot, until the mixture reaches about 1" to the top of the pot.
Add salt, about 8 tablespoons per gallon of water, and stir.
Bring to a rolling boil, and reduce to a simmer.
If you are boiling green peanuts, add the Cajun spices to the pot, and stir well. If you are boiling dried peanuts you should wait several hours before adding the spices.
Grab a refreshing beverage, and relax near the pot. Set a timer, to remind you to check the pot. Sing a song, play some music, enjoy the passing of time. Stay near the pot.
Boiling time brings out the peanuts' best texture, and soaking brings out the most flavor.
Sample peanuts every hour until they reach the texture that you like. Add fresh water all along as it boils away. Soak the softened peanuts in the brine to fill them with flavor.
Fresh green peanuts should boil at least 1 hour. Dried raw peanuts need to boil for 8 hours or more. Tasting peanuts is the only way to determine when they are done.
When boiling dried peanuts add the Cajun spice mix after the peanuts soften, and become wet inside the shell.
Taste
Taste the water before adding any more seasoning. The flavor does not saturate the peanuts until they are cooked soft, and have soaked in the broth for several hours. Be patient. Boil them until they are almost as soft as you want, then let them soak to saturate with the water, salt, and spices.
It's better to add more seasoning later rather than starting with too much. Less is more. When the peanuts have almost reached your favorite texture turn off the burner and let the peanuts soak in the juices for an hour or more for increased flavor. Simmer to soften further, and soak for more flavor.
Refrigerate the peanuts in the juice overnight for maximum flavor absorption. Reboil your peanuts more the next day if they still have not reached the texture and taste that you want, or eat them cold. When you reheat them you can adjust the flavor of the boiled peanuts with the concentration of the spice solution that you use when reheating them.
Drain the remaining liquid after you have boiled and soaked the peanuts to perfection.
Dried peanuts may take as much as 24 hours of boiling, or more, depending on the peanuts' size, maturity, and moisture content.
---
This Cajun boiled peanuts recipe requires many hours of simmering when prepared with dried peanuts. Pay attention. Never leave a boiling pot of water unattended on a stove. When the water boils away a fire will start from the burning contents and the pot can melt. Turn off the burner if you must walk away. The peanuts will keep simmering in the water until you return.
---
Enjoy your Cajun boiled peanuts recipe with your favorite soda pop, beer, wine or tea.
Refrigerate leftovers for several days or freeze them in Ziploc bags for several months. Thaw the frozen boiled peanuts in the refrigerator. Eat them cold, or reheat them in the microwave or a pot of water on the stove.
---
Post your advice, comments, and questions about Cajun boiled peanuts.
Have a tasty Cajun boiled peanuts recipe, or advice? Do you have a question about boiling Cajun peanuts? We want to hear from you! Comment here without hesitation.
Visitors' Cajun boiled peanuts recipes, comments and questions
Click below to see Cajun boiled peanuts recipes, comments and questions from other visitors.

Cajun Boiled Peanuts Recipe from Louisiana
JB's Cajun boiled peanuts recipe: dried peanuts; 3 jalapeno peppers, halved; 1 onion, quartered; 1 lemon, halved; 2 garlic heads, halved; 1 package Louisiana crawfish boil spice mix; a premixed Cajun spice blend; 2 bay leaves; and Louisiana hot sauce. No additional salt is used.
He uses a small lid to keep the peanuts under the water initially. After boiling the dried peanuts for many hours JB lets them suck up the juice in the refrigerator overnight. Crawfish, shrimp, and crab would be similarly steeped in the spiced liquid as it cools.

Soaking after boiling improves the flavor, and juiciness, for all these foods. JB repeats this boiling and soaking process twice. Total boiling time is about 20 hours. As JB says "They burl until they're done. Plenty of beer drinking time".

---
---

Search Boiled Peanut World here.
Custom Search
return to more recipes from cajun boiled peanuts recipe