This beetle threatened to destroy cotton farming in North America at the turn of the 20th century. The weevil moved from Mexican cotton fields into Texas in 1892. The cotton bug reached Louisiana by 1900.
Alabama's first infestation of the boll weevil was identified September 3, 1910, in Mobile County by state entomologist Warren E. Hines. The beetle found a home in all Alabama cotton fields by 1917.
The cotton bug could not be stopped.
The cottons bug's territory expanded amidst eradication efforts. In song the boll weevil became a powerful metaphor for the struggle of the working man. Southern US musicians wrote many songs about this bug. The earliest version is believed to be Charlie Patton's "Mississippi Bo Weavil Blues" written 1908, recorded in 1929.
The "Father of the Delta Blues" was born in Hinds County, Mississippi, circa 1891. Charlie's family moved to the Dockery Plantation sawmill, and cotton farm near Ruleville, Mississippi, when he was about 9 years old. It was at Dockery that Charlie learned guitar from Henry Sloan. Patton became an accomplished guitarist by age 19. Musicologist Robert Palmer writes that Charlie played "deep blues, white hillbilly songs, nineteenth-century ballads, and other varieties of black and white country dance music with equal facility."

Ma Rainey and her Georgia Band - Gertrude Malissa Pridgett
"New Bo-Weavil Blues" - 1923, Chicago, Illinois
Gertrude Malissa Nix Pridgett was born on April 26, 1886, in Columbus, Georgia. Gertrude married William "Pa" Rainey February 2, 1904. The couple toured and performed for several years with F.S. Wolcott's Rabbit Foot Minstrels. Later the Raineys were billed as "Rainey and Rainey, Assassinators of the Blues." She recorded her first eight songs with Chicago's Paramount Records in December 1923. Rainey recorded more than 100 original songs over the next 5 years. Ma recorded "Jelly Bean Blues," "Countin the Blue," and "See, See Rider" with Louis Armstrong in 1924. Paramount billed Ma Rainey as the "The Mother of the Blues."

Charlie "Dad" Nelson - Charlie Nelson
"Cotton Field Blues" - 1926, Chicago, Illinois
Charlie Nelson recorded 8 songs during 3 Paramount recording sessions in Chicago, Illinois, between September 1926, and April 1927. These 8 songs were released on four 78 rpm records by Paramount Records. Some titles listed him as "Dad Nelson and his Guitar" or "Dad Nelson." He played guitar, 6 string banjo, kazoo, and sang on these original compositions.
"Cotton Field Blues" was recorded in 1926.

Jaybird Coleman - Burl C. Coleman
'Boll Weavil Blues' - August 5, 1927, Birmingham, Alabama
Burl C. "Jaybird" Coleman was born on May 20, 1896, in Gainesville, Alabama. Jaybird served the US Army at Ft. McClellan in Anniston, Alabama, between 1917, and 1919. This is where he began singing blues to entertain the troops. Coleman teamed up with "Big Joe Williams in the Birmingham Jug Band," and toured with the Rabbit Foot Minstrels from 1922 to 1924. Jaybird recorded with 3 Birmingham labels in 1927; Gennett, Silvertone, and Black Patti. Author Paul Oliver writes of Coleman "His technique was close to the field holler with a sung vocal line, and then an interpreting response on the harmonica."

Lead Belly - Huddie William Ledbetter
'The Boll Weevil' - 1934, Angola Prison, Louisiana
Lead Belly was born Huddie William Ledbetter on the Jeter Plantation near Mooringsport, Louisiana in January 1888. His family moved to Bowie County, Texas, when Ledbetter was 5 yrs old. Lead Belly's signature instrument was the 12 string guitar but he also played the accordion, violin, piano, harmonica, mandolin, and concertina. His temper landed him in prison many times between 1915, and 1934. Ledbetter was freed from Lousiana's Angola prison in 1934 due to good behavior. "Boll Weevil" recording by John, and Alan Lomax inside Angola prison, 1934.
Tex Ritter and Mantan Moreland - Woodward Maurice Ritter
'The Boll Weevil' from 'Riders of the Frontier' - 1939
Woodward Maurice Ritter was born in Murvaul, Texas, on January 12, 1905. Tex was an American country music singer, and movie actor popular from the mid 1930s through the 60s. His broadcasting experience began in 1928 on KPRC in Houston. In the 1930s Ritter starred on the radio programs "The Lone Star Rangers," and "Cowboy Tom's Roundup." In 1936 Tex moved to Los Angeles to make motion pictures.

Mantan Moreland, born in Monroe, Louisiana on September 3, 1902, started in Vaudeville, performing on Broadway, and touring Europe. His movie experience began with low budget race movies but his comedic charm earned him roles in larger films. Moreland is best known for his role as the chauffeur "Birmingham Brown" in the Monogram movie series "Charlie Chan."

Blind Willie McTell - William Samuel McTier
'Boll Weevil' - November 5, 1940, Atlanta, Georgia
William Samuel McTier was born in Thomson, Georgia on May 5, 1898. William learned guitar from his family, and neighbors in Statesboro, Georgia. Willie was born blind in one eye, and lost sight in the other eye by late childhood. He traveled, and performed widely despite being sightless. McTell recorded for several labels under different names; Blind Willie McTell, Blind Sammie, Georgia Bill, Hot Shot Willie, Blind Willie, Barrelhouse Sammie, and Pig & Whistle Red. Blind Willie wrote "Statesboro Blues" which he recorded on October 17, 1928, in Atlanta, Georgia, for Victor records. McTell traveled the circuit between Atlanta, Augusta, Savannah, and Macon in the 1920's, and 1930's. He recorded "Boll Weevil" November 5, 1940, in Atlanta, Georgia (John Lomax session).

Mother Maybelle and the Carter Sisters with Carl Smith
'Boll Weevil' - Grand Ole Opry, ca. 1957, Nashville, Tennessee
"Mother Maybelle and the Carter Sisters" consisted of Maybelle Carter, and her 3 daughters - June, Helen, and Anita. They first aired on radio station WRNL in Richmond, Virginia in June 1943. The Carter Sisters then moved to WRVA, and became a headliner on the Barn Dance Show. In 1948 they accepted an offer from WNOX in Knoxville, Tennessee, joining the "Tennessee Barn Dance," and "Mid-Day Merry-Go-Round." In 1950 the group accepted an offer from the Grand Ole Opry where they regularly performed for about 10 years.

Brook Benton - Benjamin Franklin Peay
'The Boll Weevil' - 1961
Benjamin Franklin Peay was born on September 19, 1931, in Lugoff, South Carolina. Peay moved to New York in 1948 to pursue his musical career singing with several gospel groups. He later joined R&B group "The Sandmen," recording on Okeh records. Okeh encouraged Peay to become a solo artist, and changed his name to Brook Benton. Brook became a popular rock & roll, rhythm & blues, and pop singer/songwriter during the late 1950s, and early 60s. His hits include "It's Just A Matter Of Time," and "Endlessly." In 1970 Benton had a comeback covering "Rainy Night in Georgia."

Lyn Earlington and the Bourbon Street Seven
'D.D.T And The Boll-Weevil' - 1961
This groovin 1961 recording by Lyn Earlington, with Sherman Conrad, and his Bourbon Street Seven, transforms the traditional boll weevil story by introducing DDT into the picture. This odd song parodies Benton's version.
DDT was a popular pesticide in the 1950's, and the 1960's, before it was banned in the USA in 1972, due to environmental concerns.
Per this song, DDT changes the weevils attitude. In reality, DDT only provided a temporary defense against the mighty cotton bug.

---
Little bug causes big changes in the South
In 1913, Coffee County agent John Pittman traveled by train from Alabama to Texas to study cotton crop damage from boll weevils. Upon returning to Enterprise, Alabama, Pittman advised local farmers to diversify their crops. The farmers could not comply. Banks were reluctant to loan seed money for crops other than cotton, and farmers could not afford to abandon cotton without seed money for an alternative crop.
Boll weevils grabbed the attention of southeastern Alabama farmers, and bankers in 1915 when the beetle destroyed 60% of Coffee County's cotton.
Peanuts replace Cotton in Alabama
In 1916, John Pittman, and Moultrie Sessions (banker, and cotton merchant) traveled from Enterprise, Alabama, to Virginia, and North Carolina to learn about the profitable crops in those states. During this trip Pittman, and Sessions decided that peanuts were the best crop for Coffee County.
Sessions convinced local farmer C.W. Baston to plant his 125 acre farm with peanuts in 1916. Baston's 1916 peanut crop thrived, while cotton farmers suffered increased losses to the boll weevil. Farmers in southeast Alabama were now convinced they should grow peanuts, and the banks began to finance that effort. Coffee County produced more than one million bushels of peanuts in 1917, and became the USA's largest peanut producing county in 1919.

Growing and processing peanuts became a very lucrative industry in southern Alabama, and Georgia during the early 20th century. This change benefited the soil, farmers, consumers, and communities.
Peanut growing took root in Alabama, Arizona, Florida, Georgia, Mississippi, New Mexico, Texas, South Carolina, Virginia, and North Carolina as a result of the boll weevil's sweeping damage to America's cotton crops.

Boll Weevil Monument in Enterprise, Alabama
On December 11, 1919, Enterprise, Alabama, installed a monument celebrating the cotton bug as a result of the region's prosperity growing and processing peanuts following the fall of cotton. "In profound appreciation of the Boll Weevil, and what it has done as the Herald of Prosperity this monument was erected by the citizens of Enterprise, Coffee County, Alabama."
Original 1919 Enterprise Boll Weevil Monument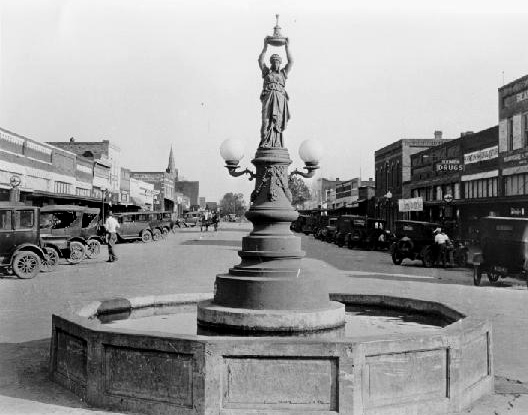 Boll Weevil added to the top of the Enterprise monument in 1949.
The Original Boll Weevil Statue was Replaced with a Fiberglass Replica on Dec. 15, 1998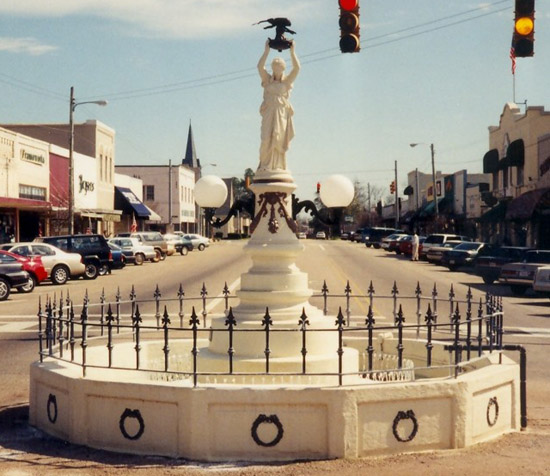 Search this site.
Custom Search
return to George Washington Carver from Boll Weevil