"Just two Chicks and their Nuts" Kennesaw Georgia
by Michelle Boyett
(Acworth, Georiga)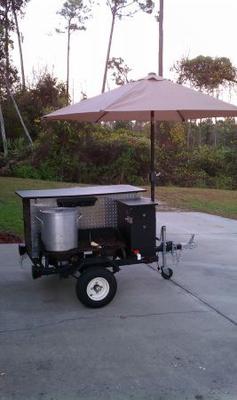 Our PeaNut Hut Mobile Trailer
Looking for a Hot Boiled Peanuts in Georgia?


My best friend and I decided to open a Hot Boiled Peanut stand in our GREAT local town of Kennesaw, Georgia. Our two families have always LOVED boiled peanuts, but the only time we would get them is when we would go up to the mountains to go camping. We decided why not make this delicious snack available in town!
So now we go down the the Georgia Farmer's Market and buy fresh peanuts and bring them home and take care of them in a salty, tasty warm bath. Our Cajun spices are a special recipe that is sure to please. Its got a hint of garlic and loads of flavor.
We've started going Nuts around here. Look us up on www.facebook.com/PeaNutHutGa - Enjoy our two flavors - Original Nut Hut and Dang that's Dixie Cajun. Come get you some!
Most weekends we are on HWY 41 (Cobb Parkway), car shows, baseball parks or festivals in the area. Just go on Facebook and see where we will be each weekend and come enjoy that Simple Southern Delicacy that we love so much!